Our talent and technology, at your service.
With 35 years of expertise in diagnosis, solutions architecture and deployment at your side, DataEndure is simply unmatched as your partner in delivering successful outcomes. Ever your ally, we'll keep YOU in the driver's seat.
SOC-as-a-Service
DataEndure's SOCaaS Strengthens Your Security Posture
DataEndure's advanced threat detection capabilities give you the time advantage:
Detect and identify potential threats faster, so that attackers no longer have time to hurt your business.
Take time away from attackers by knowing exactly where to look for them.
Focus on your core business instead of spending precious resources building out expensive, specialized security teams.
Advanced Phishing Protection
Hackers don't break in, they log in.
DataEndure's Advanced Phishing Protection (APP) offering empowers IT Operations teams and email admins with a more efficient way to protect users and their mailboxes against today's sophisticated threats.
Protect Users Everywhere with DNS-layer Security
Today, "the office" can be anywhere, and traditional security just can't keep up. That's where DataEndure's Distributed DNS Defense (D3) comes in, acting as your first line of defense against threats. D3 secures internet access and controls cloud app usage from your network, branch offices, and roaming users.
EDR-as-a-Service
Robust endpoint security for an ever-evolving threatscape
EDR (Endpoint Detection and Response) encompasses threat hunting, prevention, and detection tools and has become the gold standard in cybersecurity. DataEndure takes endpoint security to the next level by significantly enhancing the visibility of attacks targeting endpoint devices.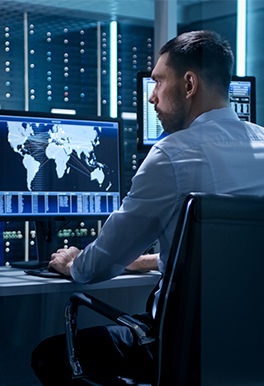 NOC-as-a-Service
Make sure your network won't let your business down.
For your network—and by extension, your business—to run as optimally as possible, network infrastructure needs to be managed and supported as actively as your laptops. With DataEndure's Network Operations Center as a Service, you can trust your network to work—without the guesswork.
Managed Services
Keeping your IT environment running smoothly requires constant attention and the availability of a highly skilled staff. DataEndure's managed services are the most efficient way to stay up-to-date on technology, and gain access to the expertise you need to address issues related to cost, quality of service and risk. We consider it our business to discover and fix problems before they can negatively affect your business … keeping you digitally resilient. Whether you choose managed services for convenience, a flexible approach, or cost savings, you'll have peace of mind while spending your valuable time doing what you do best.
Health Checks
DataEndure offers a number of free, quick, information-rich health checks to provide early indicators of trouble spots or vulnerabilities. These are a great first step for organizations who may have concern about a certain area of their IT operations, but are not sure where to start. Our experts will help interpret and prioritize the results to provide you with recommended next steps.
Assessments
Identify problem areas and reduce your risk profile with an in-depth professional assessment of your current environment, and actionable insights to improve your operations. With an experienced team and expert tools, DataEndure offers a number of detailed assessments validated against industry standards, to help you thoroughly evaluate risk, gaps, or redundancies. Then we'll help you understand what steps you must take to reduce those vulnerabilities, strengthen your security posture, and future-proof your technologies. Digital resilience, solidified.